Camping Le Bois Joli near Noirmoutier in Vendée
We welcome you to a campsite that is above all family and friendly. When you pass through the doors of the campsite, you are leaving for a short or long stay of relaxation, family reunions or weekends with friends. Here we rest, we have fun or we go for a walk to discover the region. The Vendée is renowned for its warm welcome, at Bois Joli, it's like a big family. Whether it's our 3 children or ourselves, we want each holidaymaker to feel good, take a well-being break and above all that you leave with beautiful memories! We're only waiting for you. Céline and Nicolas. Some information about the campsite The campsite welcomes you from April 1, 2023. Le Bois Joli campsite offers 199 pitches nestled in…
We welcome you to a campsite that is above all family and friendly. When you pass through the doors of the campsite, you are leaving for a short or long stay of relaxation, family reunions or weekends with friends. Here we rest, we have fun or we go for a walk to discover the region. The Vendée is renowned for its warm welcome, at Bois Joli, it's like a big family. Whether it's our 3 children or ourselves, we want each holidaymaker to feel good, take a well-being break and above all that you leave with beautiful memories!
We're only waiting for you.
Céline and Nicolas.
Some information about the campsite
The campsite welcomes you from April 1, 2023.
Le Bois Joli campsite offers 199 pitches nestled in lush greenery where everyone will find what they are looking for. For some, a canvas tent or a caravan installed on a spacious and tree-lined
camper pitch
, and for others, the
rental of a mobile home
or a canvas bungalow that is both comfortable and so exotic! Do not hesitate to consult our 4 ranges of mobile homes available.
Ideally located 20 km from the gates of the island of Noirmoutier, the 3-star campsite Le Bois Joli welcomes you for a pleasant stay in Vendée ! Alone, as a couple, with family or friends, (re)discover the charm of camping holidays between Pornic and Saint-Jean-de-Monts.
Pets are accepted under conditions.
Your campsite rental at the gates of Noirmoutier… for a few nights or for a long stay!
Take advantage of the time that passes to the rhythm of
the activities
offered by our team. During the day, pétanque, children's playground, fishing in our small pond or quite simply, resting around the
swimming pool
or
the lagoon
for an exotic getaway. In the evening, take advantage of our
lively evenings
because holidays are above all made for having fun and sharing good times with the family. Laughter and relaxation will always be there!
From the campsite, discover the Vendée
During your holidays in the heart of the
Pays de Challans
, treat yourself to a getaway to the
island of Noirmoutier
after crossing the legendary Passage du Gois. Taste the joys of swimming and water sports on the beaches of the Vendée coast. Discover the atmosphere of the seaside resorts that make the reputation of the region: Pornic, Saint-Jean-de-Monts, Saint-Gilles-Croix-de-Vie...Visit a cultural heritage preserved and highlighted through the many museums and historical monuments of Vendée. On foot or by bike, take advantage of the many trails around the campsite. Whatever your desires, you will always find something to do during your
holidays at the campsite
!
Take advantage of our special rates to escape to our partners: Planète Sauvage, crossing to the island of Yeu, La Route du Sel.
More info
Book your campsite rental 20 km from Noirmoutier en l'Île in Vendée and enjoy the calm of the countryside just 10 minutes from the seaside !
The 3-star campsite Le Bois Joli offers you the rental of mobile homes and bungalows for 4 to 6 people with 2 or 3 bedrooms. Ideal for families or groups of friends looking for calm and comfort, and discovering the "Vendée des îles" at their own pace!
Perfectly equipped, pleasant to live in day and night, all on a spacious pitch, each accommodation offers all the comfort expected of a 3-star campsite with heated swimming pool*, 3000m² lagoon, outdoor swimming pool, wifi access and many activities leisure activities offered on site.
Discover our 4 ranges of mobile homes:
Privilege: New mobile homes less than 3 years old, enjoy a specific view of the Lagoon or the Safari
Cosy: Mobile homes from 3 to 7 years old, 2 or 3 bedrooms, from 4 to 6 people, ideal with family or friends!
Loisirs: Mobile homes from 7 to 14 years old, 2 or 3 bedrooms, from 4 to 6 people, all the comforts for your holidays.
Vintage: Mobile homes over 14 years old, 2 or 3 bedrooms, accommodation at low prices for the family!!
Discover our 2 ranges of Bungalows:
Coco Sweet: The alternative between mobile home and canvas tent, without sanitary facilities, ideal for real holidays in "Camper" mode for 4 people, covered wooden terrace (not equipped with water and heating, located near the toilets)

Pagan: Tent equipped with bathroom and shower, able to accommodate 5 people, equipped with a kitchenette, wooden terrace.

(equipped with sanitary facilities, washbasin and shower, without heating)
(not equipped with water and heating, located near the toilets)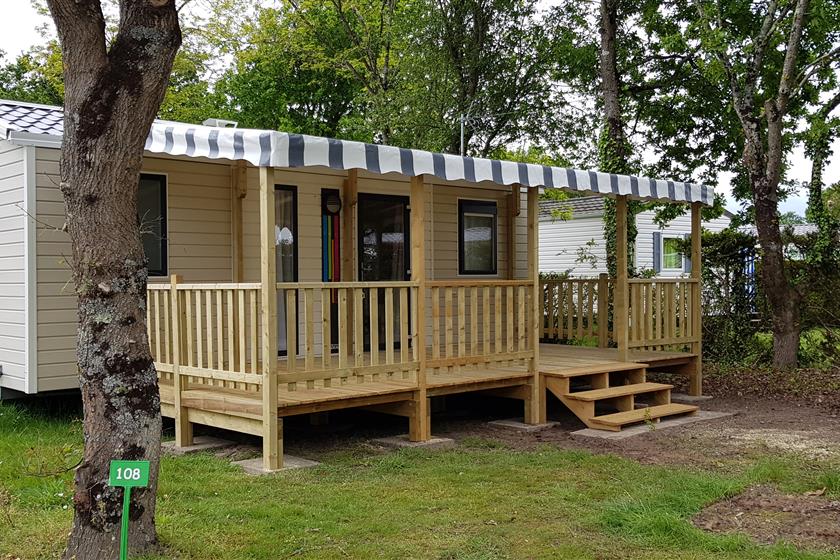 Discover the mobile homes for sale at Le Bois Joli campsite located near Noirmoutier! Own your free time... 20 km from the gates of the island of Noirmoutier, 20 min…
More info
Our reviews
Brigitte : 03/10/2022 -
9/10
Encouragement aux nouveaux propriétaires
Très bon court séjour passé dans ce petit camping familial, propre avec des gérants souriants et efficaces.
Claude : 26/09/2022 -
9/10
bien
très bon accueil et tranquillité assurée. merci à vous
Martine LAROCHE : 12/09/2022 -
10/10
Comme en famille
Nous sommes venus pour un week end en famille occuper 4 logement. Un temps très court mais nous avons pu apprécier votre accueil chaleureux, votre disponibilité lors du petit déjeuner (les viennoiseries servies encore chaudes) et votre gentillesse, la propreté des logements. Nous avons déjà recommandé votre établissement et nous n'hésiterons pas à le conseiller encore. Nous vous souhaitons de longues années de belles saisons estivales
Thierry : 11/09/2022 -
9/10
tres beau camping
bien placé pour visiter les alentours sans faire trop de kms
La douille : 06/09/2022 -
9/10
Nouveau propriétaire ayant commencé avant la saison, super sympa,pourvu qu'ils restent comme ça , seul petit problème,les sanitaires, carrelage et joint de douche noir,un petit coup de Karcher serait bien
Aurélie : 05/09/2022 -
10/10
Séjour en tente 1 nuitee
Un séjour en tente 🏕 super avec ma fille :)Un accueil irréprochable et une ambiance calme et familiale,il y a tout ce qu'il faut pour les enfants et les grands.
Copains d armés : 30/08/2022 -
10/10
Séjour agréable
Accueil très agréable camping familial très agréable également
Chris : 28/08/2022 -
10/10
familial
Camping bien exposé familial agréable accueil chaleureux
Jean-luc : 28/08/2022 -
10/10
Parfait
Familial et convivial, emplacement idéal pour découvrir la côte vendéenne ainsi que les diverses visites ( grand parc, château, moulin , musée ect...)
Emilie : 28/08/2022 -
10/10
Bon camping familial
Bon camping familial, les proprios du camping son très gentil et très à l écoute de ses campeurs.
Alice : 25/08/2022 -
9/10
bon sejour prise en charge de nos contraintes apprécié
Olivia : 22/08/2022 -
10/10
Olivia
Très bon séjour. La piscine intérieure a été très apprécié. Merci
Beatrice : 21/08/2022 -
9/10
Camping familial
Joli camping familial, les piscines et le lagon sont un véritable atout
Julie : 21/08/2022 -
10/10
Superbes vacances
Nous avons passé un superbe séjour au bois joli. Tout était parfait, les piscines couverte et découverte sont vraiment top et le lagon est magnifique et très agréable. Les gérants sont d'une grande gentillesse et extrêmement disponibles. De superbes soirées sont organisées quasi quotidiennement, cainsi que de nombreuses activités pour les enfants.
Emplacement 99 : 21/08/2022 -
9/10
Séjour très agréable
Camping très agréable, animations et restauration sauront vous occupez, très belle offre aquatique le Lagoon est un véritable plus et pour les jours maussades la piscine couverte prend le relai. Le seul point moins positif est le manque d éclairage dans les allées en sortant des animations le , surtout quand il a plus et qu on ne voit pas les flaques au sol . Mais c'est déjà une très belle offre pour un camping dans une petite commune comme celle ci .
Agréable séjour en famille
Camping sympa, équipements extérieurs au top avec le nouveau lagon qui est vraiment un plus dans ce camping.
Irène : 17/08/2022 -
9/10
Je suis satisfaite de mes vacances et du personnel toujours a notre écoute l'amabilité et la gentillesse des gérants Super agréable vivement l année prochaine
Le lagon a fait le bonheur de beaucoup de monde Super agréable
Michelle : 16/08/2022 -
10/10
Félicitations
Etre accueilli avec le sourire et la convivialité est l'atout majeur. Merci
Fabrice : 08/08/2022 -
10/10
Bravo, certes êtes des personnes formidables
Super séjour avec des propriétaires très chaleureux et très accueillants, se pliant en quatre pour les vacanciers
Florent et Pauline : 07/08/2022 -
10/10
Séjour au bois joli
Nous sommes très content de notre séjour chez vous. Le seul point négatif que l'on aurait est le service restauration. Dommage qu'il faille commander ou réserver longtemps en avance pour pouvoir manger. Sinon les produits étaient frais et très très bon ! Merci pour votre gentillesse, nous reviendrons avec plaisir ! A très bientôt
Francis : 07/08/2022 -
10/10
Bonjour la patronne et le patron son a l écoute des vacanciers et trouves des solutions pour les clients je trouve dommage qui a pas de mobi pour personne hadicapées j'éspère que sa va changer .
Je recommande ce camping
Camping top, ombragé et propre. propriétaires très sympas
Alexandra : 31/07/2022 -
9/10
Seul inconvénient pendant la douche l'eau devient froide.
Frédéric Gout : 25/07/2022 -
10/10
Superbes vacances
Camping très agréable et famillial. un accueil chaleureux et de nombreuses activités proposées en soirée. Le lagon est vraiment très joli. Petite remarque qui ne m'empêchera de revenir l'impossibilité de régler la température des douches (trop chaude pour moi). bonne saison à vous et félicitation pour votre implication et sympathie.
Nicole : 20/07/2022 -
9/10
Très bon camping accueillant les propriétaires très sympathique je le conseille
Les propriétaires très sympathique camping très bien si vous voulez passé des vacances en famille je le conseille
Gisèle : 17/07/2022 -
9/10
Notre premier séjour dans un camping à nos âges nous sommes ravis des installations du lieu et de l'accueil et de l'environnement.
Je pense que nous reviendrons car cela nous convient parfaitement au niveau de l'ambiance et tout
David : 17/07/2022 -
10/10
Séjour super agréable accueil chaleureux comme le porte le non du camping très joli camping j'y retournerai en famille 😉
Je recommande ce camping très agréable et très propre
Audrey : 17/07/2022 -
9/10
Chaleureux
Chaleureux, convivial, souriant. Nous recommandons
familles hingant et lucienne : 12/07/2022 -
10/10
camping et sanitaires propres et bien entrenus manque animations en soiree
continuez dans votre nouvelle installation a l annee prochaine
Philippe : 03/07/2022 -
9/10
Très bon accueil semaine très sympa hébergement parfait
Nicole : 03/07/2022 -
10/10
Super
Calme et tranquillité, les patrons très accueillant et à l'écoute des clients.
Benoit : 27/06/2022 -
10/10
Séjour très agréable en famille
Superbes vacances en famille, le personnel super, rien à redire, au top.
Séjour top !!
Equipe très professionnelle, souriante et réactive. Camping bien équipé. Nous reviendrons.
Anita : 05/06/2022 -
10/10
Camping agréable où je pourrais retourner sans hésitation
Jeanne : 02/06/2022 -
10/10
Parfait
Accueil, propreté, calme, camping très agréable on y retournera volontiers.
Michele : 25/05/2022 -
9/10
nous sommes tres satisfaits de notre séjour dans votre camping. accueil très sympathique. ambiance famillialee
très satisfaits de notre séjour chez vous. bonne ambiance.
Nathalie : 23/04/2022 -
9/10
A recommander accueil professionnel aimable et chaleureux
A recommander pour ceux et celles qui aiment convivialité